EFFECTIVE ANTI-AGING TREATMENTS RECOMMENDED BY DERMATOLOGISTS
BOTOX
How it works: Botox injections reduce the appearance of fine lines and wrinkles by temporarily "paralyzing" the muscles that contract during certain facial movements such as smiling, frowning, and laughing. Dr. Nicole Strickland shares that "Botox is quick, minimally invasive, and one of the safest cosmetic treatments."
Treatment areas: Forehead, Glabella (between the brows – "frown lines"), and Crow's Feet (lateral eyes).
Length of results: Botox treatment typically lasts about 3-4 months. Consult with your dermatologist to assess as to whether Botox is right for you and what are realistic effects.
FILLERS
How it works: Unlike Botox which reduces or freezes muscle movements, fillers use a gel-like substance made of hyaluronic acid to "fill in" volume to areas with deep wrinkles or areas with loss of fullness, and to even define and shape certain areas of the face.
Treatment areas: Fillers can be used to lift and enhance cheeks, soften the nasolabial folds (smile lines), add fullness to the lips, smooth the lines around the mouth, and shape the chin.
Length of results: Filler injections generally last approximately 6 months to 1 year, and as such, additional treatments will be necessary periodically in order to maintain their effect. A consultation with your dermatologist is necessary before filler treatment to discuss the benefits, risks, aesthetic goals, and expectations.
MICRONEEDLING
What it does: Microneedling is a minimally invasive procedure that uses a pen with a sterile needle cartridge to intentionally create thousands of tiny "micro-injuries" to the outer layers of the skin. This helps to produce new collagen and elastin to remodel the skin, as well as improve overall skin tone and skin texture. Not to worry – a topical numbing agent is applied prior to your procedure to ensure a painless and comfortable treatment experience!
Treatment areas: Full face.
Length of results: We typically recommend a series of treatments around four weeks apart in order to achieve optimal results. Realistically, we believe patients should look forward to a 25-50% improvement with regard to skin texture and tone. For individuals looking to correct deeper wrinkles, treatment with fillers might be necessary.
ANTI-AGING PRODUCTS THAT ACTUALLY WORK
Looking to start an anti-aging regimen but unsure on where to start? There are so many products on the market but only a handful are clinically proven to make a visible difference. As Dr. Shalini Vemula says, when it comes to a skin care regimen "Less is more – Often, using a few active ingredients is all you need."
An effective anti-aging skin care regimen consists of three key products recommended by dermatologists: Vitamin C serum followed by a moisturizing sunscreen in the morning, and a retinoid at night. If you want to add a bonus product, adding a hyaluronic acid product can boost your regimen.
VITAMIN C SERUM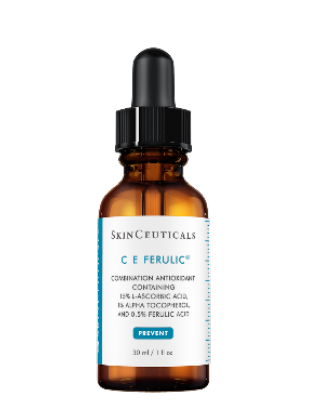 Our favorite: SkinCeuticals C E Ferulic
What it does: Vitamin C is an antioxidant that protects your skin against photoaging (damage to the skin due to sun exposure). Vitamin C also helps to brighten skin's complexion, even skin tone, and improve loss of firmness by boosting collagen. Additionally, Vitamin C can help reverse damage caused by pollutants and other environmental stressors. In other words, it has a lot of really great benefits for your skin! The SkinCeuticals C E Ferulic is a clinically-proven product with 15% pure vitamin C (L-ascorbic acid), 1% vitamin E, and 0.5% ferulic acid.
When to use it: Daily in the AM
HYALURONIC ACID (BONUS PRODUCT)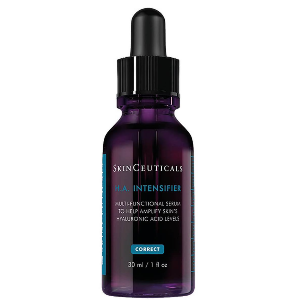 Our favorite: SkinCeuticals H.A. Intensifies
What it does: Corrective serum with a high concentration of pure hyaluronic acid clinically proven to amplify skin's hyaluronic acid levels, helping to improve the appearance of firmness, smoothness, and facial plumpness. This hyaluronic acid serum is widely recommended by dermatologists, and is a great product to use after receiving dermal filler injections to enhance results.
When to use it: Daily in the AM and PM
SUNSCREEN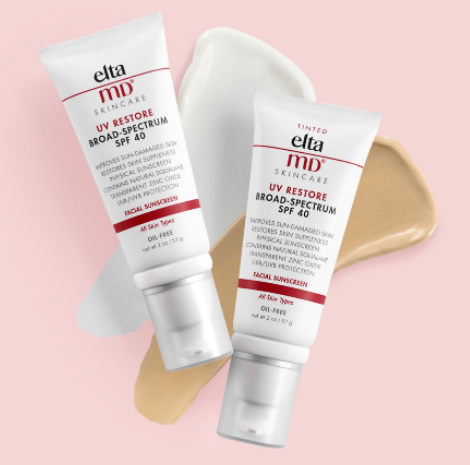 Our favorite: EltaMD UV Restore SPF 40
What it does: Sunscreen is the absolute best product you can use on a daily basis to combat signs of skin aging. Afterall, sun damage is a main cause of visible signs of aging. We recommend that you find a daily moisturizing sunscreen that you love to ensure you want to use it every single day. One of our favorites, EltaMD UV Restore, is a 100% mineral sunscreen that also contains Squalane which restores skin's natural moisture and suppleness. This advanced sunscreen is designed to promote a healthy complexion by improving skin smoothness, minimizing dark spots and helping to reduce the appearance of fine lines and wrinkles.
When to use it: Daily in the AM (last product you should apply before makeup)
RETINOID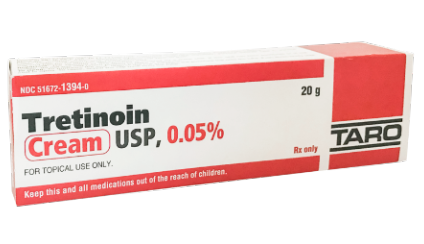 Our favorite: Tretinoin (prescription only – see your dermatologist to get started)
What it does: Retinoids increase skin cell turnover to help stimulate collagen production, improve pigmentation and reduce fine lines and wrinkles. While prescription strength retinoid is the most effective, you can also find retinols over-the-counter, such as Differin gel.
When to use it: Daily in the PM