If you've been a patient at Northstar Dermatology, you've likely heard our providers preach that the backbone of good skincare is sunscreen every morning and a retinol at night. But if you are looking to maximize your daily skincare regimen, adding a Vitamin C serum to your morning routine is the next most important staple.
WHAT DOES VITAMIN C DO?
Vitamin C is an antioxidant that protects your skin against photoaging (damage to the skin due to sun exposure). Vitamin C also helps to brighten skin's complexion, even skin tone, and improve loss of firmness by boosting collagen. Additionally, Vitamin C can help reverse damage caused by pollutants and other environmental stressors. In other words, it has a lot of really great benefits for your skin!
There are many different Vitamin C products on the market, but be careful – not all products are effective. Vitamin C products can also be pricey, so finding the right product with an effective formula is crucial. There are a few things you'll want to know before choosing a Vitamin C.
1. The type of vitamin C ingredient in the product makes a big difference! Dermatologists recommend products that contain L-ascorbic acid, which is the most active and purest form of vitamin C.
2. Check the concentration! Your vitamin c serums should contain at least 10 percent vitamin C. Anything less will not be very effective. Anything more than 20 percent might be too irritating for the skin.
3. Look for vitamin c products that also contain ferulic acid. Vitamin C alone does not actually absorb well into the skin. Ferulic acid is a key companion to vitamin c that stabilizes L-ascorbic acid molecules and reduces the pH levels, allowing proper absorption into the skin.
4. How is it packaged? Vitamin C should be stored in a dark or opaque bottle to prevent oxidation. Exposure to sunlight and oxygen causes vitamin c to oxidize, which degrades the ingredients and makes it less effective. A dark, tightly sealed bottle is key to ensuring your product lasts its full life.
WHAT PRODUCTS ARE RECOMMENDED?
1. Dermatologist Favorite: SkinCeuticals C E Ferulic SkinCeuticals C E Ferulic is the number one dermatologist recommended Vitamin C serum on the market due to its effectiveness proven by clinical studies as well as being a patient favorite. Known as the "holy grail of vitamin C serums," this serum contains 15% L-ascorbic acid (highly potent form of pure vitamin C), 0.5% ferulic acid (promotes absorption of vitamin C into the skin), and vitamin E (replenishes and moisturizes the skin). This product also comes packaged in a dark amber bottle to protect from sunlight and prevent oxidation.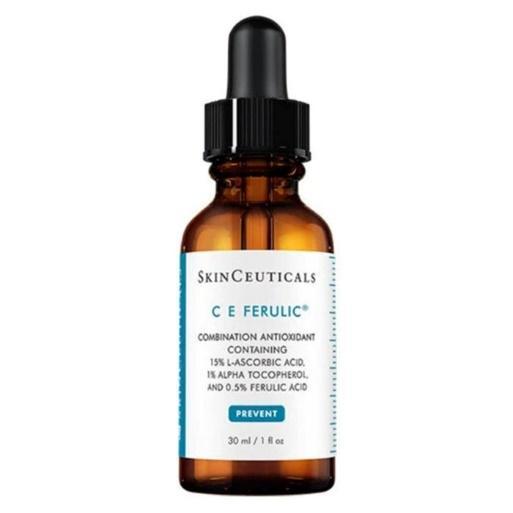 Although C E Ferulic is a popular favorite, many do not know that SkinCeuticals has two sister products to the original CE Ferulic that are equally effective.
The first variation, Phloretin CF, is perfect for those with oily skin or hyperpigmentation (dark spots). Phloretin CF contains 10% L-ascorbic acid, 0.5% ferulic acid, and 2% phloretin (helps improve cell turnover and improves the appearance of discoloration).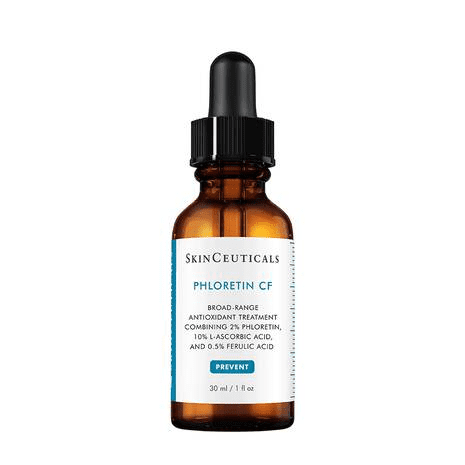 The second variation, Silymarin CF, is better suited for those with acne-prone skin. Silymarin CF contains 15% L-ascorbic acid, 0.5% ferulic acid, 0.5% Silymarin (a plant-based antioxidant that helps prevent oil from oxidizing and clogging pores), and 0.5% salicylic acid (a beta-hydroxy acid that exfoliates, refines pores, and helps reduce the formation of blemishes).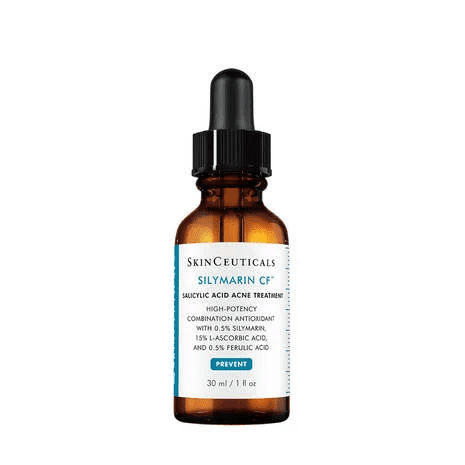 2. Budget Friendly Favorite: Drunk Elephant C-Firma Day Serum
Known as a "copycat of SkinCeuticals C E Ferulic", the Drunk Elephant C-Firma Day Serum offers the same benefits at a lower price point ($78.00). This product also contains 15% L-ascorbic acid, 0.5% ferulic acid, and vitamin E. The bottle is completely opaque and airtight, preventing exposure to sunlight and oxygen. The consistency of this product is slightly more "sticky" than the SkinCeuticals products, but at nearly half the cost it is a wonderful and effective option!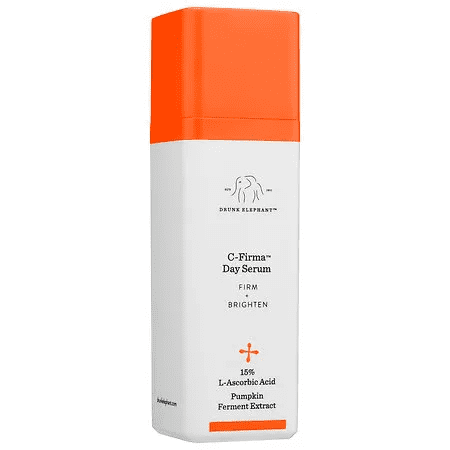 Source: Al-Niaimi, Firas, and Nicole Yi Zhen Chiang. "Topical Vitamin C and the Skin: Mechanisms of Action and Clinical Applications." The Journal of clinical and aesthetic dermatology vol. 10,7 (2017): 14-17.