GENTLE CLEANSERS
Cetaphil Gentle Skin Cleanser
This creamy formula is clinically proven to provide continuous hydration after cleansing. Defends against five signs of skin sensitivity, including dryness, irritation, roughness, tightness, and a weakened skin barrier. Great for dry to normal or sensitive skin.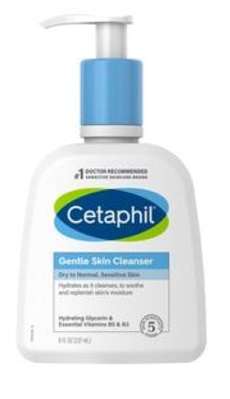 CeraVe Hydrating Facial Cleanser
Created with dermatologists, CeraVe Hydrating Facial Cleanser is a gentle face wash with ingredients like ceramides and hyaluronic acid that work to restore the skin's natural barrier to help the skin lock in moisture. CeraVe Hydrating Cleanser was designed to cleanse and refresh the skin without overstripping it or leaving it feeling tight and dry.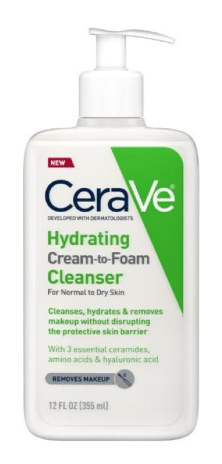 ---
Aveeno Ultra-Calming Cleanser
This gentle foaming cleanser lifts away dirt, oil, and makeup without over-drying or aggravating even very sensitive skin. Formulated with CALMING FEVERFEW®, a natural ingredient related to chamomile, it helps reduce the appearance of redness and is gentle enough to use every day.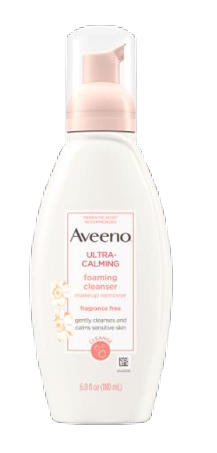 SkinCeuticals Soothing Cleanser
Calming, soap-free cleansing foam with a high-concentration blend of botanical extracts to dissolve impurities while soothing compromised skin.

---
BENZOYL PEROXIDE CLEANSERS
CeraVe Acne Foaming Cream Cleanser
The CeraVe Acne Foaming Cream Cleanser is formulated to thoroughly dissolve dirt and excess oil while clearing acne with 4% benzoyl peroxide. Developed with dermatologists, this cleanser works to clear your acne breakouts and helps prevent new blemishes from forming. Gentle on your skin, CeraVe Acne Foaming Cream Cleanser helps maintain the skin's barrier with three essential ceramides, leaving your skin feeling soft and comfortable and reducing acne without dryness or flaking.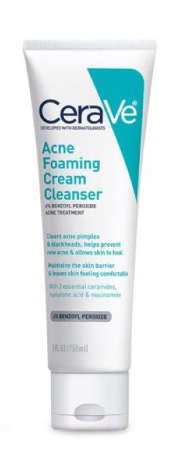 Neutrogena Clear Pore Cleanser/Mask
This dermatologist-tested formula features the acne-fighting power of 3.5% benzoyl peroxide, which kills bacteria and treats existing breakouts. This breakthrough acne-fighting formula can be used two ways—as a daily face cleanser or a face mask.
Whether you use it as a daily facial cleanser to kill bacteria or as an intensive mask for deep cleansing and extra shine control, you'll feel the cooling intensity build as it penetrates into the pores. Plus, it rinses clean so your skin is left feeling smooth.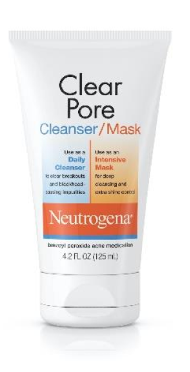 PanOxyl Acne Creamy Wash – 10% Maximum Strength for Body Acne
Clear, treat and prevent body breakouts with PanOxyl 10% Benzoyl Peroxide Maximum Strength Acne Foaming Wash. PanOxyl Acne Foaming Wash contains the highest concentration of benzoyl peroxide available without a prescription. This powerful daily cleanser starts working quickly to clear inflammatory acne and kills over 99% of acne-causing bacteria in 15 seconds. Given the higher strength of this wash, we recommend using this on the body instead of the face.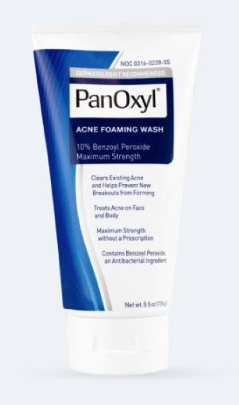 ---
SALICYLIC ACID CLEANSERS
Neutrogena Oil-Free Acne Wash (Oily skin types)
This creamy formula is clinically proven to provide continuous hydration after cleansing. Defends against five signs of skin sensitivity, including dryness, irritation, roughness, tightness, and a weakened skin barrier. Great for dry to normal or sensitive skin.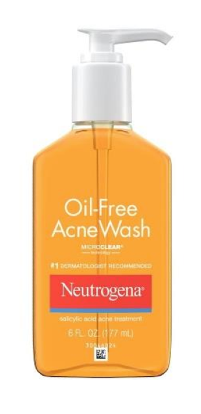 La Roche-Posay Effaclar Medicated Gel Cleanser (Normal to Oily skin)
Removes excess oil and helps clear acne breakouts. This gel cleanser is formulated with 2% salicylic acid and lipo-hydroxy acid to remove impurities without harsh scrub particles that may irritate the skin.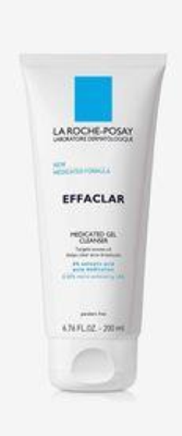 SkinCeuticals LHA Cleanser (Normal to Oily skin types)
Exfoliating gel cleanser decongests pores, smoothes skin texture, and brightens skin. Contains a 12% concentration of key ingredients combining lipo-hydroxy acid, glycolic acid, salicylic acid, glycerin, and sorbitol to remove excess oils and makeup, while decongesting pores and brightening skin. Formulated for aging skin prone to breakouts, this deep cleansing gel gently refines the appearance of congested pores and helps to reduce blemishes without drying the skin.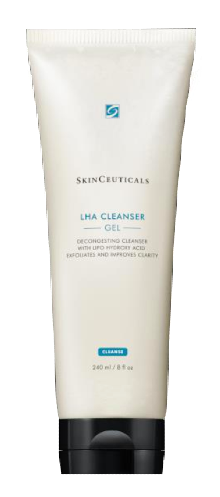 CeraVe Renewing SA Cleanser (Normal to Dry skin types)
A gentle salicylic acid cleanser can help exfoliate and smooth your skin while also effectively removing oil and dirt, sweeping away dead cells, and softening rough skin—without leaving skin feeling dry. Cleansing with CeraVe Renewing SA Cleanser, a salicylic acid cleanser enhanced with barrier restoring ingredients like ceramides, can help keep moisture in while keeping irritants out.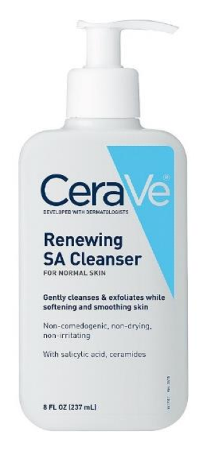 Cetaphil Clear Clarifying Acne Cream Cleanser (Sensitive or Dry skin)
This gentle cream-to-lather formula deep cleans to clear and soothe breakouts in acne-prone, sensitive skin without drying. Balanced formula is specially formulated with acne-fighting Salicylic Acid plus soothing aloe and white tea extract to nourish skin. Dermatologist tested and clinically proven to be gentle on sensitive skin.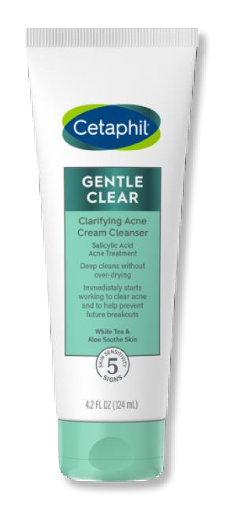 Neutrogena Body Clear Body Wash (for body breakouts)
Treat and help clear up body breakouts as you cleanse with Neutrogena® Body Clear® Body Wash with 2% Salicylic Acid. Designed for acne-prone skin, this refreshing oil-free body wash helps fight breakouts on your back, chest, and shoulders and is made with glycerin to help nourish dry skin.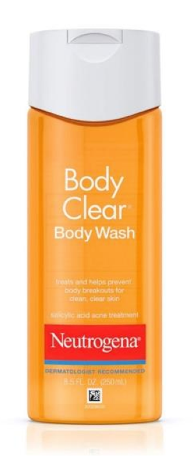 ---
VITAMIN C SERUM (BONUS PRODUCT)
SkinCeuticals Silymarin CF
Antioxidant serum formulated specifically for oily and blemish-prone skin types that delivers advanced environmental protection and reduces oiliness, refines skin texture, and visibly improve skin clarity and fine lines. Use in the AM for effective anti-aging results safe for acne-prone skin!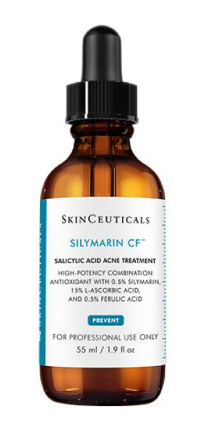 ---
AZELAIC ACID (BONUS PRODUCT)
Azelaic Acid Gel 15% (prescription-strength)
Note that for effective treatment of acne, a prescription-strength azelaic acid medication may be necessary. Prescription-strength products usually contain 15 to 20 percent azelaic acid. However, OTC products may still provide some benefits and are a good option for less-severe acne types. If you are interested in a Rx for azelaic acid, you'll want to schedule an appointment with your board-certified dermatologist.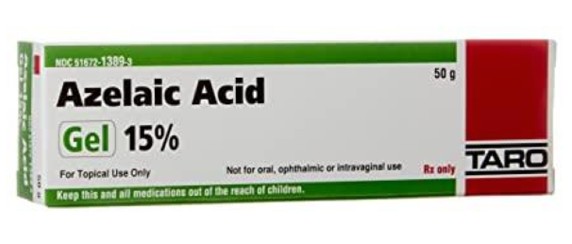 SkinCeuticals Phyto A+ Brightening Treatment (OTC Professional Skincare Option)
Lightweight moisturizer with soothing botanicals helps correct out-of-balance skin. Reduces excess oil and redness, while smoothing skin and minimizing the appearance of pores for enhanced clarity and brightness. Contains a gentler concentration of 3% azelaic acid, so it's a great option for those with sensitive skin!

The Ordinary Azelaic Acid Suspension 10% (Affordable OTC Option)
Contains 10% Azelaic Acid to help brighten the skin tone, improve the evenness of skin texture, and reduce the look of blemishes. Also, very affordable at a $10 price point!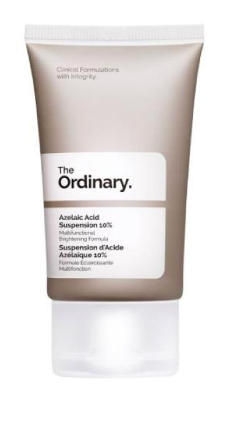 Paula's Choice 10% Azelaic Acid Booster (OTC Option)
This unique formula uses 10% azelaic acid, plus other powerhouse ingredients to clarify uneven tone, target stubborn spots, and soothe irritation.

---
AM MOISTURIZER WITH SUNSCREEN
CeraVe Ultra-Light Moisturizing Lotion
A perfect combination of a lightweight sunscreen and moisturizer, great for anyone with normal to oily skin. As with all of the CeraVe products, this sunscreen contains good-for-you ingredients like hyaluronic acid and ceramides to restore the skin's barrier. It's also very affordable and easy to find.

EltaMD UV Clear SPF 46
Oil-free EltaMD UV Clear helps calm and protect sensitive skin types prone to discoloration and breakouts associated with acne and rosacea. It contains niacinamide (vitamin B3), hyaluronic acid, and lactic acid, ingredients that promote the appearance of healthy-looking skin. Choose from tinted and untinted formulas for use every day.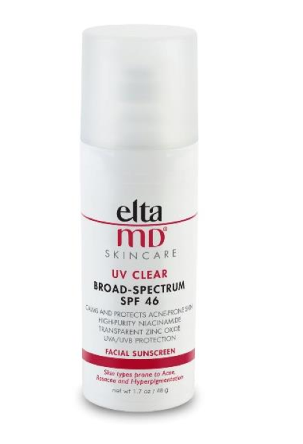 Australian Gold Tinted SPF 50
This sunscreen has a high SPF (50), is mineral based (no chemicals), and is tinted. Works nicely as a replacement for makeup when doing day-to-day activities. This BB cream has a powdery-clean finish, doesn't "cake up" throughout the day, and won't clog pores. This Australian Gold Botanical Sunscreen also comes in a variety of tints: Fair to Light, Medium to Tan, and Rich to Deep.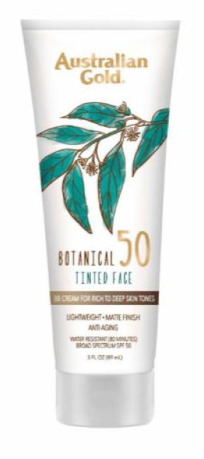 ---
RETINOID
Tretinoin (prescription-strength)
Tretinoin is a retinoid that increases skin cell turnover to help un-clog pores, improve pigmentation and stimulate collagen production. Dr. Amir Aboutalebi advises that retinoids should have a role in every acne regimen. "They're great stuff, and not to mention, they have anti-aging and mild anti-cancer properties." Retinoids should be used at night and can cause some mild irritation (redness, peeling, sensitivity) when starting out. Schedule an appointment with your board-certified dermatologist to get started on a prescription Retinoid and to discuss a plan for how to work through the transition phase of irritation.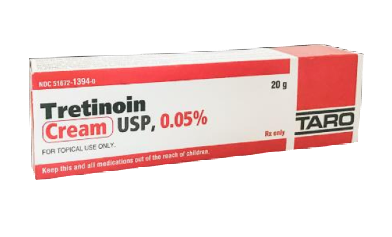 Differin Gel (OTC)
While prescription strength retinoid is the most effective, you can also find retinols over-the-counter. Differin Gel contains the over-the-counter retinoid adapalene. Helps to clear breakouts and clogged pores, and restore skin tone and texture. Starting on an OTC retinoid is a great way to ease into a prescription strength retinoid!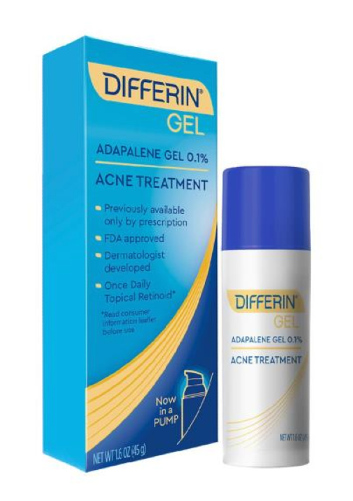 ---
PM MOISTURIZERS
CeraVe PM Facial Moisturizing Lotion (Our pick for oily skin)
CeraVe PM Facial Moisturizer is formulated to lock in your skin's moisture and help restore your skin's natural barrier, all while you sleep. Adding this oil-free, non-comedogenic night cream to your nighttime skincare routine can help hydrate, calm, and soothe your skin, while also helping to maintain your protective skin barrier.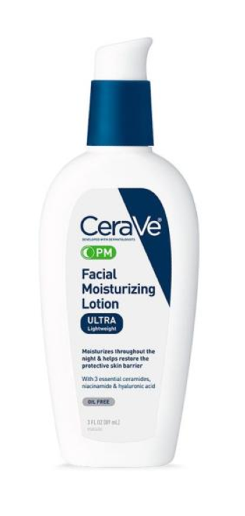 EltaMD PM Therapy (Our pick for normal to combination skin)
This lightweight moisturizer contains a blend of antioxidants, peptides, and ceramides to repair skin and restore elasticity and vitality. Safe for all skin types!

Neutrogena Hydro Boost Gel-Cream for Extra-Dry Skin (Our pick for dry skin – great for Accutane patients)
Quenches dry skin for a healthy-looking glow. Hydrates with hyaluronic acid and the gel formula absorb quickly into the skin but have the lasting moisturizing power of a cream.
EltaMD Skin Recovery Night Mask (Our pick for sensitive or damaged skin)
This hydrating night mask visibly reduces redness and calms the skin, making it a great choice for post-acne or post-procedure skin. It also encourages the skin's natural repair and renewal process to repair damage to the skin barrier.